Recall Chek-find out if your appliances have recalls
What is Recall Chek?
You can have your appliances checked to see if there are any known recalls on them through one system. You can add them to the report over time as you get new ones and remove the old ones as well. This is provided to you at no additional cost when ordered with your home inspection.
Would you like a recall check without a home inspection? Maybe you are already in your home and want to know if there are any known recalls on your appliances.
Click this button below.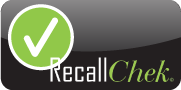 Each one is only $29.95 per report.
If you have any questions, you can reach us at 812-629-3096.
For Real Estate Agents visiting our page, we have resources for you too!